Description
Lamperd Interlocking Riot Shields
Affords Maximum, Lightweight Protection for Multiple Officers When Used in Combination to Form an Interlocking Barrier
Available Sizes:
71 inch (1800 mm)
48 inch (1220 mm)
36 inch (914 mm)
24 inch (610 mm)
Riot Shield Thickness Available: 4.5mm or 3mm
Optional Gun Port may be added at any position desired.
Lamperd makes the best riot shields in the business:
Personal Protection
Unit Protection
Riot Suppression
Much more than just something that blocks. The Lamperd Shields are designed to augment unit strength and ability by means of the unique interlocking system incorporated into each shield.
Lamperd Less Lethal has developed and is manufacturing Full Size Interlocking Riot Shields offering maximum protection to officers from attack by blunt or sharp instruments, fire or thrown objects. The interlocking feature allows for multiple shields to be rapidly linked together, "side by side" or "roof-on" to form an unbroken barrier line of defense between officers and potential threats.
These shields are made of strong, clear polycarbonate but are easy to carry as the total weight is only 7.5 kg (16.5 lbs). Dimensions are: 71 inches (1800 mm) x 25 inches (635 mm) x .12 inches (3mm).  The Lamperd Interlock Positive Lock System Riot Shield meets or exceeds the Blade Cut Resistance Requirement stipulated under Clause 5.7 of BS 7971-3:2002. This shield will not crack, bend or break in typical riot and crowd control duties.
The handles are constructed of strong yet lightweight material with padded, non-slip grips and can allow the shield to be held with only one arm. The handle on the right is formed in a "D shape for comfortable and secure handling. Padding of .39 inch (10 mm) thickness x 15.7 inch (400 mm) length x 11.8 inch (300 mm) width is provided between the D handle and the elbow strap.  The design also offers a baton holder and optional gun port which can be placed at any location desired.
To prevent unnecessary injuries there are no projections for any attachments from the shield.  All metallic components are made from rust-proof materials or treated with a rust-proof coating.  The word "POLICE" can be inscribed in white print with a black background inside the shield (visible from the front) in a reflective material. On the 71 inch model only, a durable carrying bag is provided to protect the shield surface when in storage or transit to operations.
All manufacturing is done at Lamperd's extensive facility in Ontario, Canada.
Lamperd Interlocking Riot Shields offer a superior design to competitors' shields because of our unique Interlock Positive Locking System as shown in these comparison photos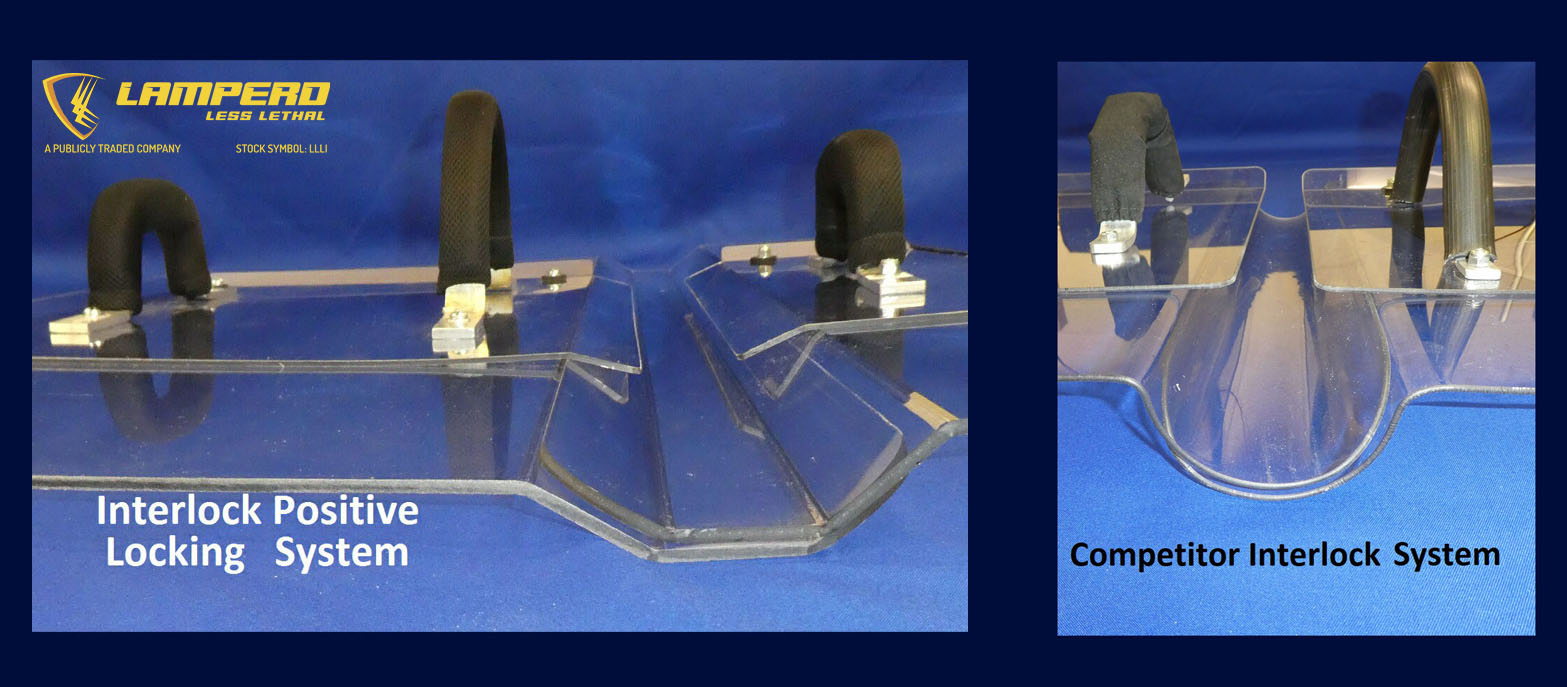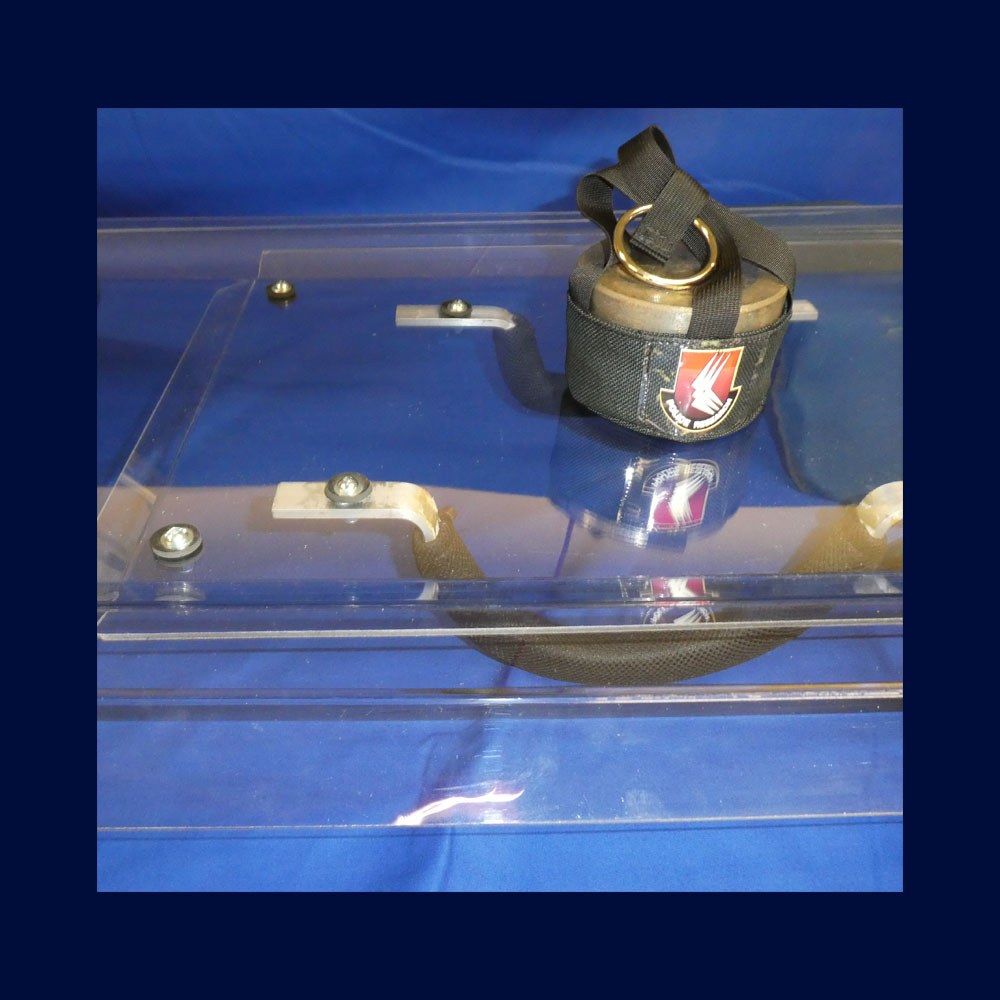 Lamperd performs an 8 foot, 20 lbs Drop Test on one of every 25 Riot Shields made.