POLICE AND MILITARY TRAINING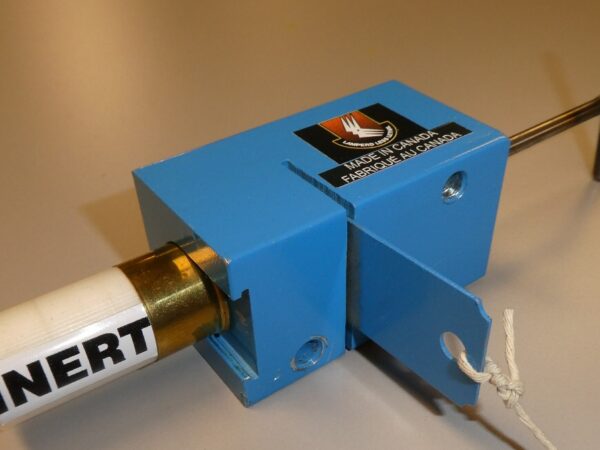 12 Gauge Tactical Distraction Training Block Device
⦁ Produces Tactical Sound Effects for Realistic Police Training.
⦁ Uses a Special 12 Gauge Safety Shell Case Filled with Urethane Energy Absorbing Foam.
⦁ Can be Produced with Option for Use of Only a 20 Gauge Safety Shell Case.
⦁ Easy to Set-Up and Trigger with Simple Pull Cord.
⦁ Steel Housing for Durability and Long Service Life.
--- TRAINING EVENTS FOR 2022 ---
Currently Offering a Certified OC Instructor Training Program for Police, Security, Corrections and Military Units
Lamperd Less Lethal now offers a real OC Instructor Certification Program that permits the user to apply the course to any pure OC product. This means the spray being used by the agency must be an OC pepper spray with no combination of CS or CN.  Contact Ed Bogats, Jr. PhD for all information regarding how to get certified in a nationally and internationally recognized program. The certification is valid for three years. Contact: (412) 855-7964 or bullitt67@verizon.net These programs run on a regular basis and can be conducted via correspondence, Zoom (webinar) or in person.
October 2022 Training Announcement:
Lamperd Less Lethal OC Instructor Certification
As we kick of the new Lamperd Less Lethal OC program we are proud to offer a first time Virtual Training event that will take place on Friday October the 21st, 2022 from 0800 hrs. to 1600 hrs. via Zoom. This is a 3-year certification.
The program is ground breaking in the OC industry and the certification process is streamlined to save agencies time and money. The course will consist of lecture from the program PPT and open-end discussions from all participants. The Instructor Candidate will receive the following items electronically:
The OC Instructors manual in a PDF, and the PPT in a PDF.
All testing and administrative materials needed for conducting and documenting your class.
A certificate and ID card upon completion of the course.
This is a LE class only and is a prepay by October the 7th, 2022.
When: Friday October the 21st, 2022 from 0800 hrs. to 1600 hrs.
Fee: Discounted rate of $95.00 per instructor candidate (regular rate is $195.00)
How to register: Contact – Ed Bogats, Jr.  PhD at bullitt67@verizon.net or (412) 855-7964 on details and how to register.
There are many exciting new things happening at Lamperd Less Lethal and breaking into the OC market is one of them. We hope to have a full product line of OC products in the near future. All instructors will receive a 20% discount on all Lamperd products as certified instructors.
November Training Announcement:
Lamperd Less Lethal Munitions Instructor Course; 12 GA Shotgun, 37/40 mm Less Lethal Systems and New Tactical Distraction Device
When: Friday November 4th, 2022
Time: 0900 to 1700 hrs
Where: State FOP Lodge in 84 PA
Delivery: Lecture, PPT and open discussion. There is a written exam and a practical range portion for the course.
Cost: $195.00 and $100.00 for ammo (my cost) – total is $295.00 – 3 year certification
This course is designed to complement other Lamperd Less Lethal Instructor programs, it is a three year certification and covers the 12 ga and 37/40 mm platforms.
The course will cover the following rounds in 12 ga – WASP, Safety SOC, Door Breaching and 145 dB distraction round. We will also certify you under the new Lamperd Less Lethal Distraction Training Device.
37/40 mm rounds will consist of the WASP and Safety SOC rounds.
This course is designed to be used in either a patrol or tactical situation. It is also endorsed to be combined with any entry, crowd control and riot response program.
This course is universally accepted as an industry standard at the state and federal levels in the US, Canada and abroad.
A certificate of completion will be presented upon successful completion of the written exam and practical exam.  We will be limiting the class to only 12 Instructor Candidates to maximize the Coaching/Mentoring approach to this instructor development course. This course provides 8 hours of instruction credit towards the NRA recertification standard of 24 hours of instructor level training.
All attendees will receive the following electronically 2 weeks prior to the class:
Updated instructor manual
Updated PPT presentation
All administrative paperwork
All testing materials
This is a prepay course and all payments must be received by Friday 10-21-2022. Please make sure payment is made out to Ed Bogats, Jr. and mailed to 207 East Harbison Road  Pittsburgh, PA 15205. You may bring an agency shotgun or 37 mm less lethal launcher if you want to train with them, otherwise I will have the launching systems and a shotgun available for use. There will be no lethal firearms permitted on the range during the practicum. Be safe! Thanks!  ED
bullitt67@verizon.net      www.ejcsecurity.com  or  (412) 855-7964

US Distributorship Announcement for the New Lamperd Less Lethal OC Pepper Splatter Device
EJC Security Services, Inc. in Pittsburgh PA will be the US point of
contact for the new Lamperd Less Lethal OC Splatter device. All US
orders will be filled and shipped from our Pittsburgh, PA location in
order to fill requests as quickly as possible. We are also pleased to
announce a new Instructor Certification program for the new OC Pepper
Splatter Units.
Training can be conducted on ground at your facility or through distance
learning, whichever is most convenient for your agency. We are very
excited to add this new dimension to our superlative line of less lethal
products. We are also looking for dealers in the US to assist in our
global marketing project. Please contact Ed Bogats, Jr.  PhD, MPM,
FBINA  222nd Session at (412) 855-7964 or via email at
buliit67@verizon.net.
Allegheny County Sheriffs Department in Pittsburgh, PA training with Lamperd Interlocking Riot Shields
The bright green bars on the shields shown here were requested as identification marks for the Allegheny County Sheriffs Department.  Lamperd can add similar identification in any color desired by the user.
Training Courses for Lamperd Less Lethal Products & Tactics
Lamperd's VP of Training, Chief Ed Bogats, Jr., PhD, has been conducting a  schedule of courses in the United States which are ongoing.  This training is for law enforcement officers only and is focused on Crowd/Riot Control and Public Order using Lamperd's 12 Gauge and 37MM weapon systems, Interlocking Riot Shields, OC Aerial Bursts, OC Pepper Blast Units and 12 Gauge Distraction Rounds. Agency Instructors are being trained in crowd management when responding to protests and civil disorder. All of Dr. Bogats' courses have been filled to capacity and attendees have been extremely pleased with the expert level of instruction and hands-on experience they have received for the latest Lamperd Less Lethal products and tactics. New training courses are being scheduled on a regular basis. Details will be posted here when available. Be sure to check back soon.
Lamperd Training offers cutting edge, practical, research driven law enforcement training for accredited policing and law enforcement organizations.
From Defensive Tactics to O.C spray and Baton to Breaching and Tactical Team Training and Operations Lamperd can supply full service force training to meet your organizational requirements.
All training is conducted by certified Lamperd Training specialists with Police and Military back grounds.
Lamperd offers training in class room settings as well as having specific training areas for hands on courses.
Defensive Tactics

O.C Spray

Less Lethal, 20 and 12 Gauge, 37, 38 and 40 mm and 50 caliber Munitions and Tactics course

Door Breaching /Room Entry and Clearing

Baton

Small Unit Shield Training

Tactical Team Training

Sniper Training

Active Shooter Training

Judgement/Shoot no Shoot Training

9mm, 5.56 and 7.62 Next to Lethal training
Ask about our Train the Trainer and Instructor programs.