POLICE AND MILITARY TRAINING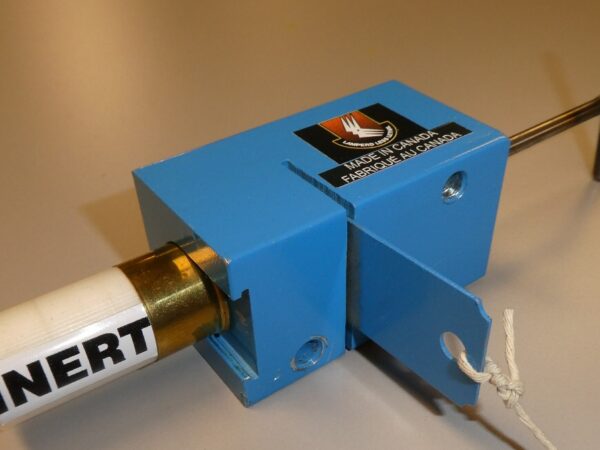 12 Gauge Tactical Distraction Training Block Device
⦁ Produces Tactical Sound Effects for Realistic Police Training.
⦁ Uses a Special 12 Gauge Safety Shell Case Filled with Urethane Energy Absorbing Foam.
⦁ Can be Produced with Option for Use of Only a 20 Gauge Safety Shell Case.
⦁ Easy to Set-Up and Trigger with Simple Pull Cord.
⦁ Steel Housing for Durability and Long Service Life.
--- TRAINING EVENTS ---
Currently Offering a Certified OC Instructor Training Program for Police, Security, Corrections and Military Units
Lamperd Less Lethal now offers a real OC Instructor Certification Program that permits the user to apply the course to any pure OC product. This means the spray being used by the agency must be an OC pepper spray with no combination of CS or CN.  Contact Ed Bogats, Jr. PhD for all information regarding how to get certified in a nationally and internationally recognized program. The certification is valid for three years. Contact: (412) 855-7964 or bullitt67@verizon.net These programs run on a regular basis and can be conducted via correspondence, Zoom (webinar) or in person.

US Distributorship Announcement for the New Lamperd Less Lethal OC Pepper Splatter Device
EJC Security Services, Inc. in Pittsburgh PA will be the US point of
contact for the new Lamperd Less Lethal OC Splatter device. All US
orders will be filled and shipped from our Pittsburgh, PA location in
order to fill requests as quickly as possible. We are also pleased to
announce a new Instructor Certification program for the new OC Pepper
Splatter Units.
Training can be conducted on ground at your facility or through distance
learning, whichever is most convenient for your agency. We are very
excited to add this new dimension to our superlative line of less lethal
products. We are also looking for dealers in the US to assist in our
global marketing project. Please contact Ed Bogats, Jr.  PhD, MPM,
FBINA  222nd Session at (412) 855-7964 or via email at
buliit67@verizon.net.
Allegheny County Sheriffs Department in Pittsburgh, PA training with Lamperd Interlocking Riot Shields
The bright green bars on the shields shown here were requested as identification marks for the Allegheny County Sheriffs Department.  Lamperd can add similar identification in any color desired by the user.
Training Courses for Lamperd Less Lethal Products & Tactics
Lamperd's VP of Training, Chief Ed Bogats, Jr., PhD, has been conducting a  schedule of courses in the United States which are ongoing.  This training is for law enforcement officers only and is focused on Crowd/Riot Control and Public Order using Lamperd's 12 Gauge and 37MM weapon systems, Interlocking Riot Shields, OC Aerial Bursts, OC Pepper Blast Units and 12 Gauge Distraction Rounds. Agency Instructors are being trained in crowd management when responding to protests and civil disorder. All of Dr. Bogats' courses have been filled to capacity and attendees have been extremely pleased with the expert level of instruction and hands-on experience they have received for the latest Lamperd Less Lethal products and tactics. New training courses are being scheduled on a regular basis. Details will be posted here when available. Be sure to check back soon.
Lamperd Training offers cutting edge, practical, research driven law enforcement training for accredited policing and law enforcement organizations.
From Defensive Tactics to O.C spray and Baton to Breaching and Tactical Team Training and Operations Lamperd can supply full service force training to meet your organizational requirements.
All training is conducted by certified Lamperd Training specialists with Police and Military back grounds.
Lamperd offers training in class room settings as well as having specific training areas for hands on courses.
Defensive Tactics

O.C Spray

Less Lethal, 20 and 12 Gauge, 37, 38 and 40 mm and 50 caliber Munitions and Tactics course

Door Breaching /Room Entry and Clearing

Baton

Small Unit Shield Training

Tactical Team Training

Sniper Training

Active Shooter Training

Judgement/Shoot no Shoot Training

9mm, 5.56 and 7.62 Next to Lethal training
Ask about our Train the Trainer and Instructor programs.