Description
Crowd Control has become a major issue for law enforcement today

Effectiveness and Safety are the issues that matter most

Lamperd Less Lethal has the solution: The Aerial Burst Pepper Spray Grenade, available now.

Also available in Distraction Only Rounds
Lamperd Less Lethal Inc., an innovation leader in the development of advanced security products and crowd control systems, has introduced the world's only Aerial Burst Pepper Spray Grenade. This product finally fills the need for a solution that will effectively disburse large crowds using powerful yet harmless pepper spray, with minimal risk of injury to anyone.
The projectile itself is composed only of cardboard and other harmless, lightweight materials that drop no dangerous fallout on the target area. This exclusive Lamperd design protects civilians from the risk of personal injury and authorities from the risk of potentially major legal liabilities.
Lamperd Less lethal has been cleared and certified by the Federal Government of Canada for large scale manufacture and sale of the Aerial Burst Pepper Spray Grenade to any NATO country.
12 Gauge OC Aerial Burst Launching System
Allows Standard 12 Gauge Shot Gun to Launch Aerial Burst OC Munitions.
Delivers a Cloud of OC Pepper 100+ Feet to Cover a 200 Sq. Ft. Area.
Powerful but Harmless Measure for Riot Control Situations.
Rounds can be Skipped of the Ground Indoors or Outdoors.
Simple to Load and Launch in Seconds.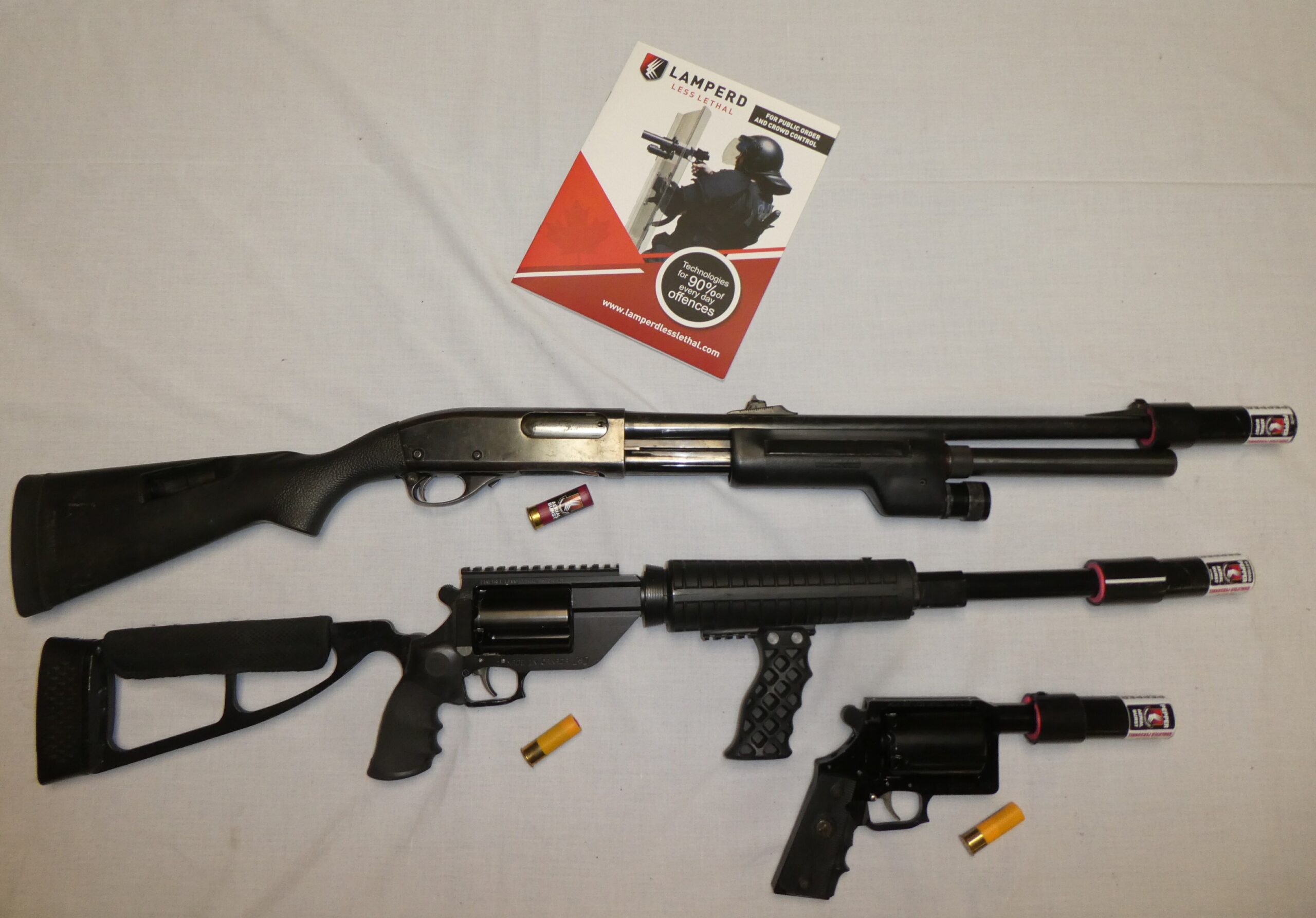 Lamperd 12 Gauge (top) and 20 Gauge Aerial Burst Pepper Launching Systems

Optional Retainer Ring Available for 12 Gauge Shot Guns not fully designated to Less Lethal with the site left on
Order Number PT730M: This 2-part 12 gauge Aerial Burst Launching System does the same job as our 37 and 40mm Aerial Burst units to deliver a cloud of powerful but harmless OC pepper covering a 200 sq. ft. area with downrange travel out to 100+ feet. The rounds can also be skipped off the floor inside buildings or outside off the ground for added versatility. To use, all that is required is to push the dispense unit on to the end of a standard shot gun barrel and add the 12 gauge activating shell case in the chamber, then pull the trigger to launch. Lamperd Less Lethal does all manufacturing in-house at our own facility in Sarnia, Ontario with well established local materials suppliers. Therefore, we are minimally affected by supply chain and labor issues and can provide timely, dependable order fulfillment. Certified training courses are available worldwide.